RCJ X WAS HELD
Greetings Scouts of the RCJ X –
We are glad to announce that the RCJ X was held from 23rd to 28th November and successfully ended with 220 domestic Rover Scouts and Leaders of the same generation, and 15 overseas Scouts as a guest from Taiwan and Korea in total.
We would give sincere appreciation and Scout yell to the General Association of the Scouts of China (Taiwan), Korea Scout Association, and many enthusiastic Scouts who supported the RCJ X.
The Rover Scout Council of Japan (RCJ) had the first opportunity to invite overseas Scouts to our national Scout event. Although there were many troubles and difficulties in inviting them, we are sure that the International Day program was one of the best opportunities for CJK Scouts to have a mutual understanding.
We hope that the RCJ X reminds you of new friends, new connections, and a new understanding of how each of us plays a role in creating a better world.
Best wishes,
RCJ X organising committee.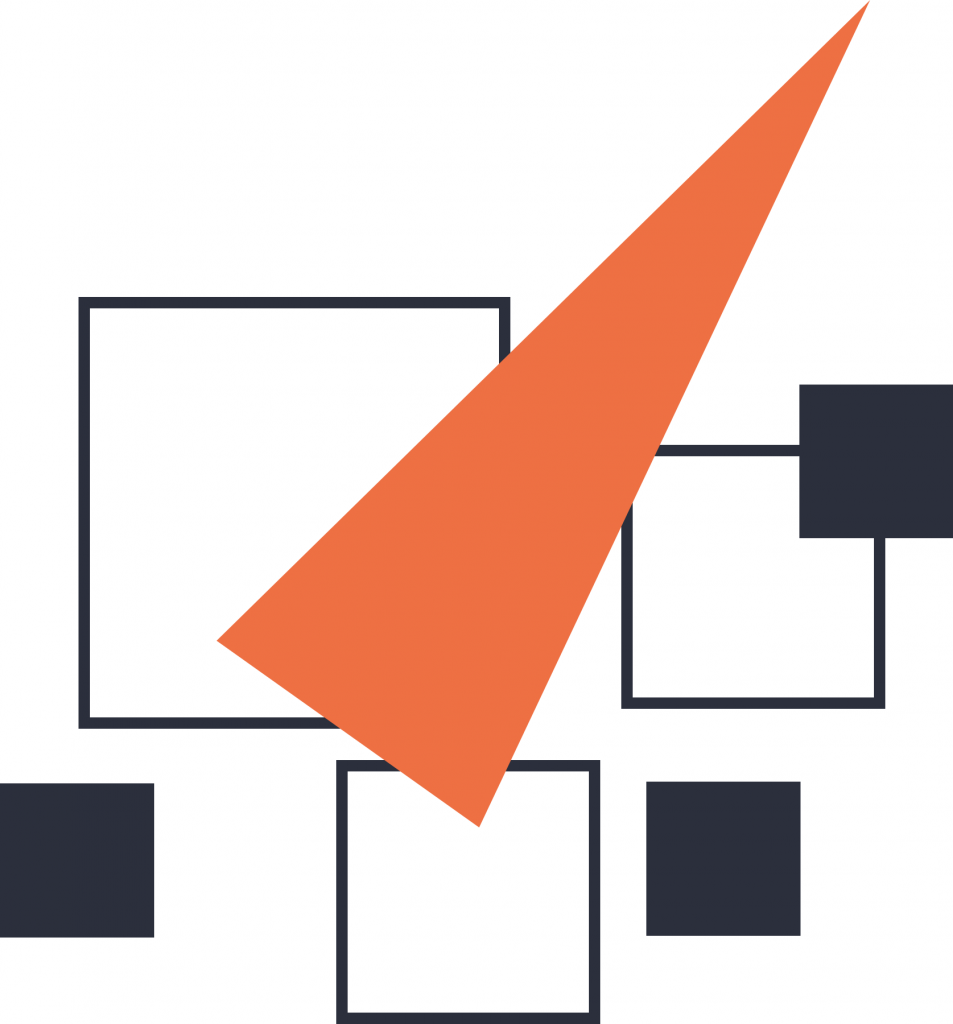 MESSAGE
CONNECTIONS FOR THE FUTURE
On behalf of the Rover Scout Council of Japan (RCJ), we are pleased to announce that we are hosting an online national event "RCJ X". We are sure that the 6 days from Tuesday, 23rd November to Sunday, 28th November 2021 will immerse you in a significant experience while you share your culture and interact with Rover Scouts & Leaders of the same generation in Japan.
This event was held and successfully ended.
HELLO TO OVER 200 SCOUTS
LARGEST RCJ EVENT ON VIRTUAL
Over 200 Rover Scouts and Leaders of the same age group are going to join the RCJ X. We also invite Venture Scouts and overseas scouts as a guest. The RCJ X will be one of the largest ever RCJ event on virtual.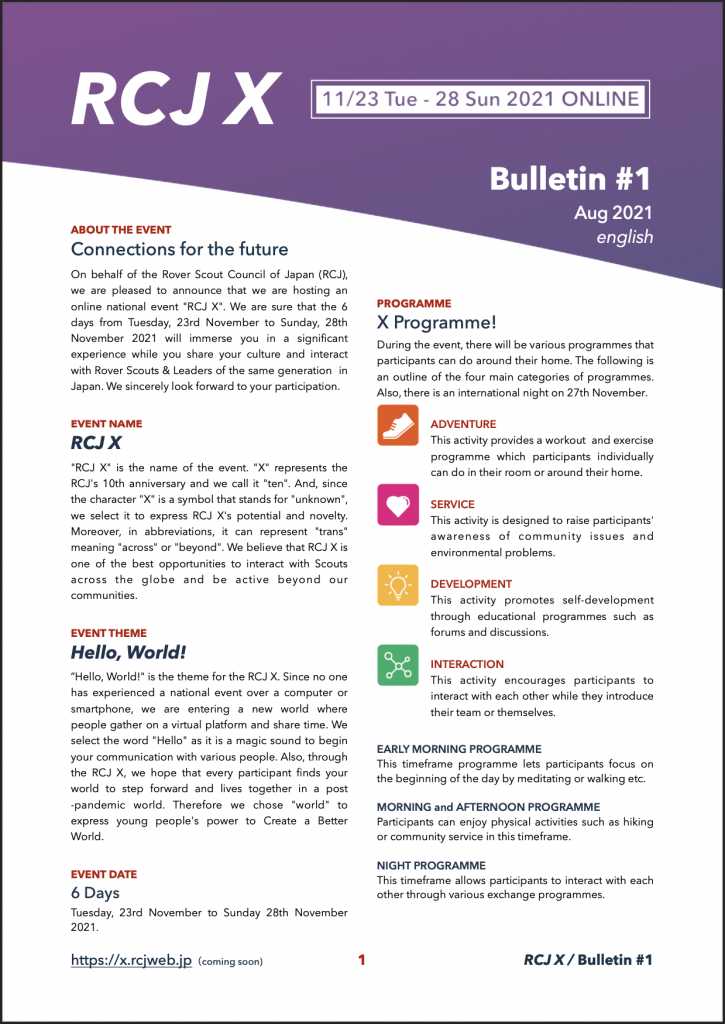 BULLETIN ENGLISH
CHECK BULLETIN #1
We published the Bulletin #1 english ver to provide information with overseas scouts. You can view and download it HERE.
Information
Programme
Schedule
Eligibility to join
JOIN THE RCJ X
HOW TO JOIN THE RCJ X
We have the International Day on 27th November on the occasion of the RCJ X. We're planning to hold international programmes that deepen mutual understanding and international exchange among Rover Scouts.
We sent the invitation to the Korea Scout Association and Scouts of China ( Taiwan ). We mainly invite overseas scouts from Korea and Taiwan. If you're a scout registered in the NSO, you can join the RCJ X as a guest.
If you are interested in the RCJ X, please contact the NSO's office NO LATER THAN 12 NOV 2021.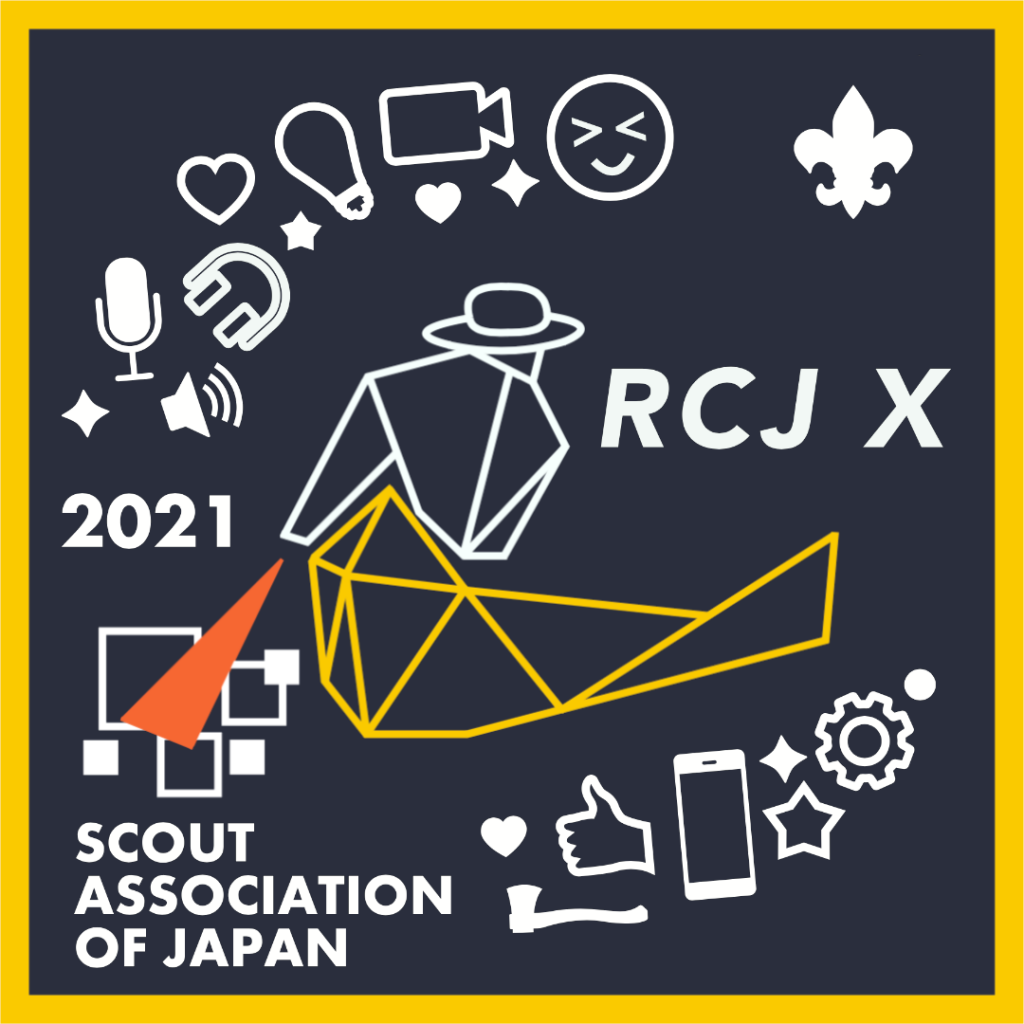 BASIC INFO
ABOUT RCJ X
NAME: RCJ X(ten)
THEME: Hello, World!
DATE: 6 Days from Tuesday 23rd Nov to Sunday 28th Nov.
(27th is an International Day.)
HOST: Rover Scout Council of Japan (Scout Association of Japan)
This event was held and successfully ended.